Better collaboration for the team
Smartsheet connects all the work in your organization with a secure, unified, and easy-to-use cloud platform for faster, better collaboration and management of your team.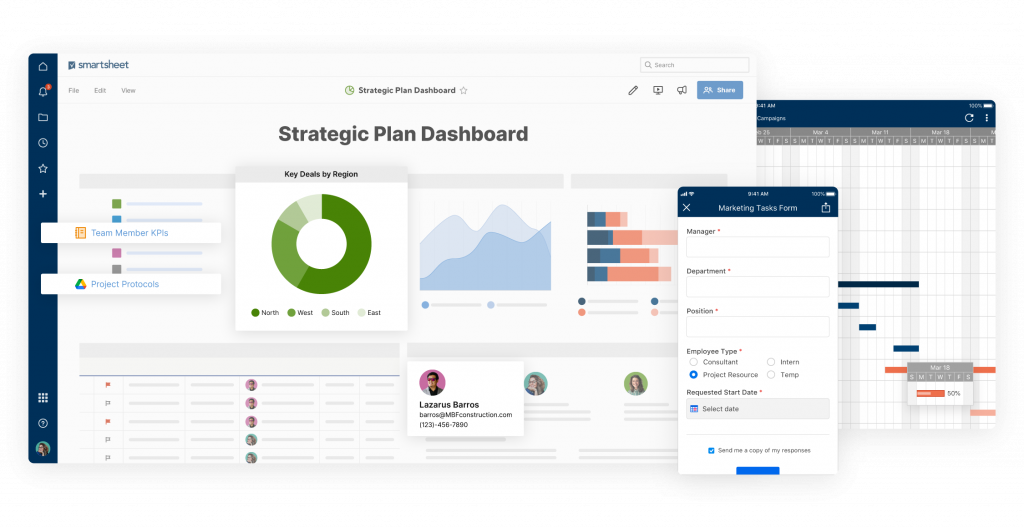 For example, advanced utilization of organizational Excel resources in a cloud environment
Excel table → Import → Easy setting → Gantt view → Card view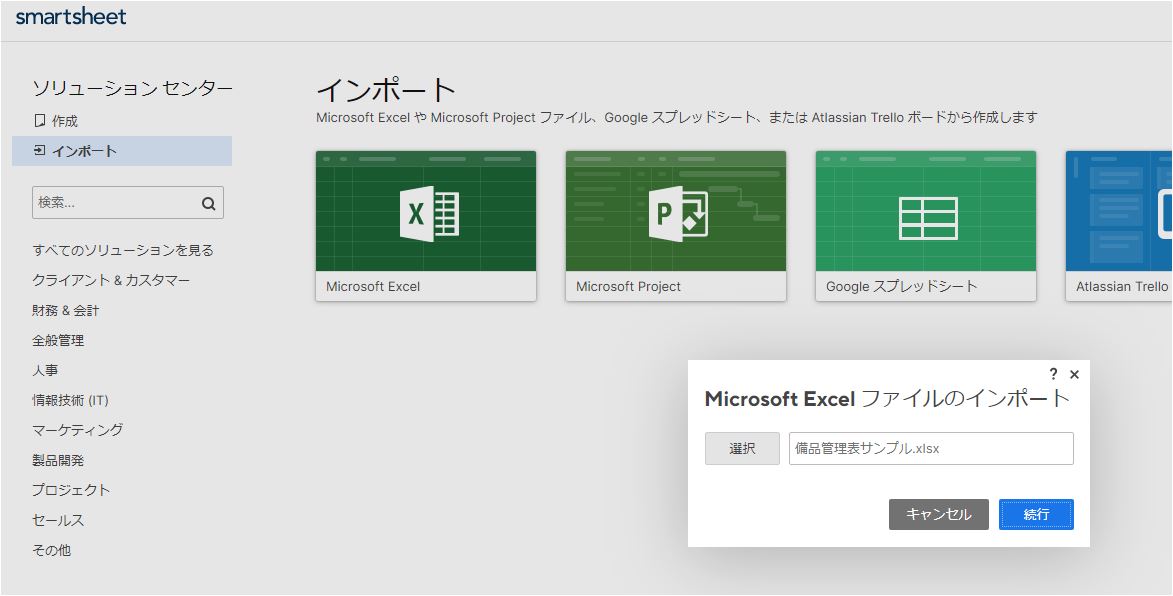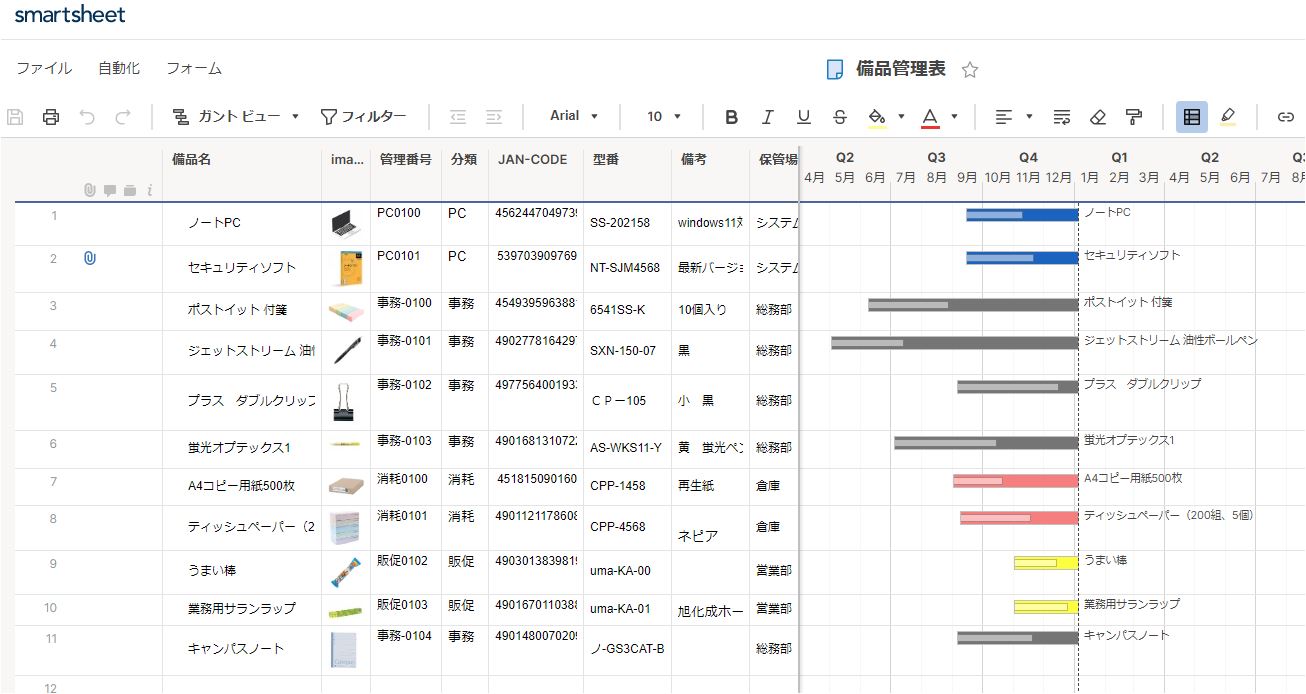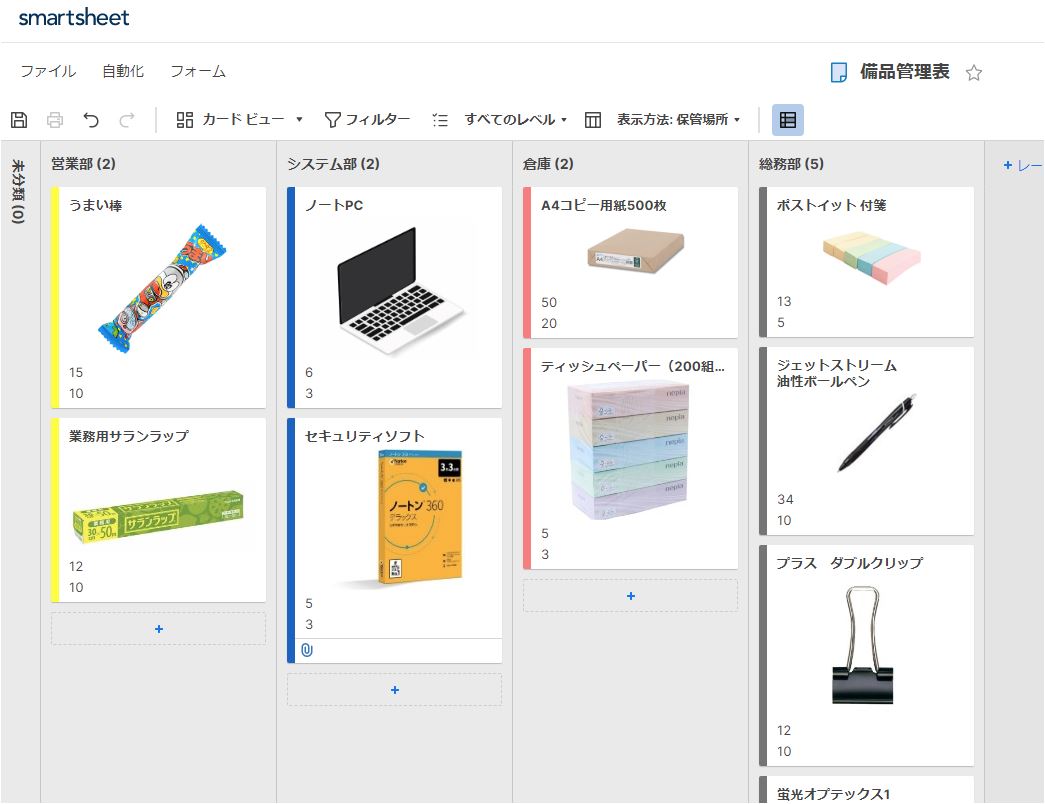 Equipment management excel
Equipment management gant
Equipment management card
---
What you can do with Smartsheet
Smartsheet is best at project management.
It can also be used as groupware.
It is a very flexible platform and can be used in any field and any business.
Since it is excellent in workflow, it can also be used for automation of various tasks.
Since all the change history of cells etc. remains, it can also be used for operations that require a high degree of security.
---
Used all over the world from large companies to small and medium-sized companies

It is trusted by companies in more than 100 countries around the world, including major US companies such as Fortune500 and Fortune190.It is provided by Smartsheet Inc, which is listed on the New York Stock Exchange.
---
About Smartsheet
Smartsheetproject management,GroupwareIt is a general-purpose platform with functions such as.
Even if you do not have knowledge of IT, you can build an automated solution in the user department by workflow etc.
Major US companiesIt is this SaaS platform that realizes high security used by the government and government.
It is provided by Smartsheet (NYSE listed SMAR), headquartered in Bellevue, Washington, USA.
You can also take advantage of the support of SmartSeat Certified Partners to take full advantage of the various features.
Cloud Smart is Japan's firstProfessional Service Certification PartnerAs,Experience using Smartsheet at a Japanese corporationBased on this, we will support Japanese customers.
Features of Smartsheet
Smartsheet can easily turn Excel resources into the cloud.
You can use smart functions such as attaching files line by line and having conversations.
You will only be charged for the number of accounts that create seats for your team.
Users who only use it can add unlimited free of charge both inside and outside the company.
For business, you can use 10 accounts from about XNUMX yen a year.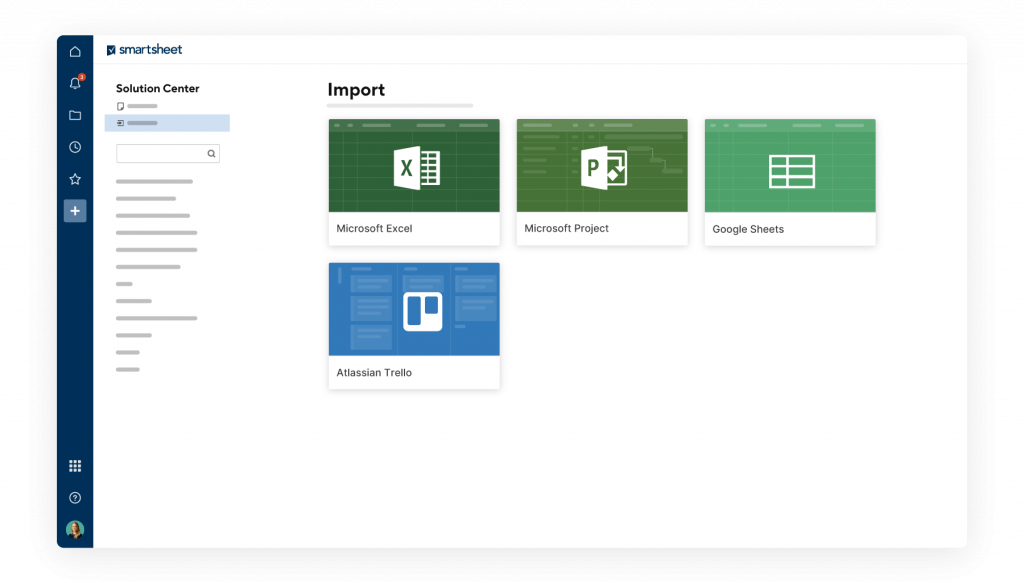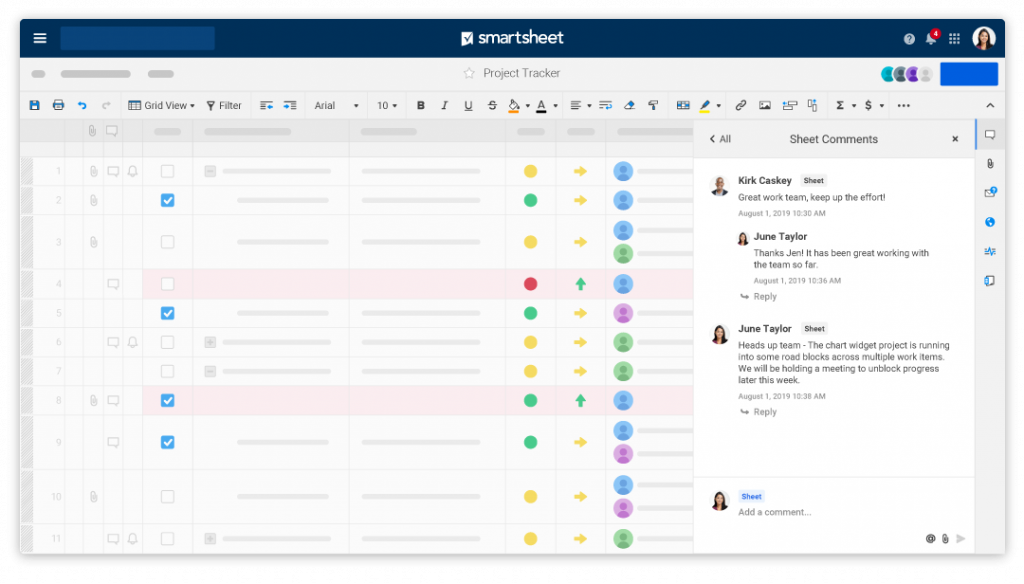 ---
You can see the image of the actual Smartsheet on the next page.
In addition, it may take some time to load when using for the first time.
Image of smart sheet
Project management example XNUMX
Here is an example of a simple project with dependencies between tasks.
Manage the tasks of opening a Hokkaido branch office in chronological order.
A Gantt chart is displayed in the right panel, making it easy to understand the time relationships and dependencies of tasks.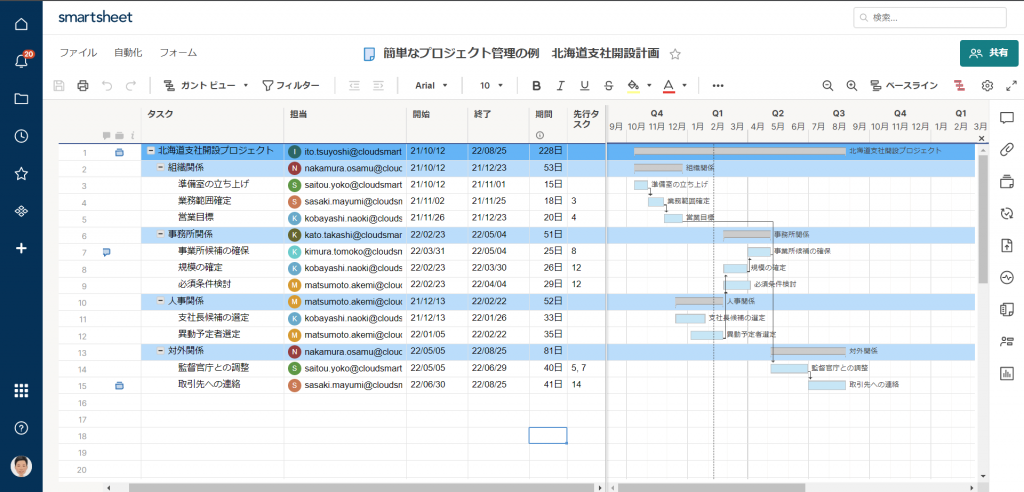 Project management example XNUMX
An example of complex project management that consists of many tasks.
We took due diligence in M ​​& A as an example.
The color of the bar of the task that has been completed in the conditional format has been changed.
WBS (Work Breakdown StructureThe work is disassembled and structured by the method). (XNUMXst row)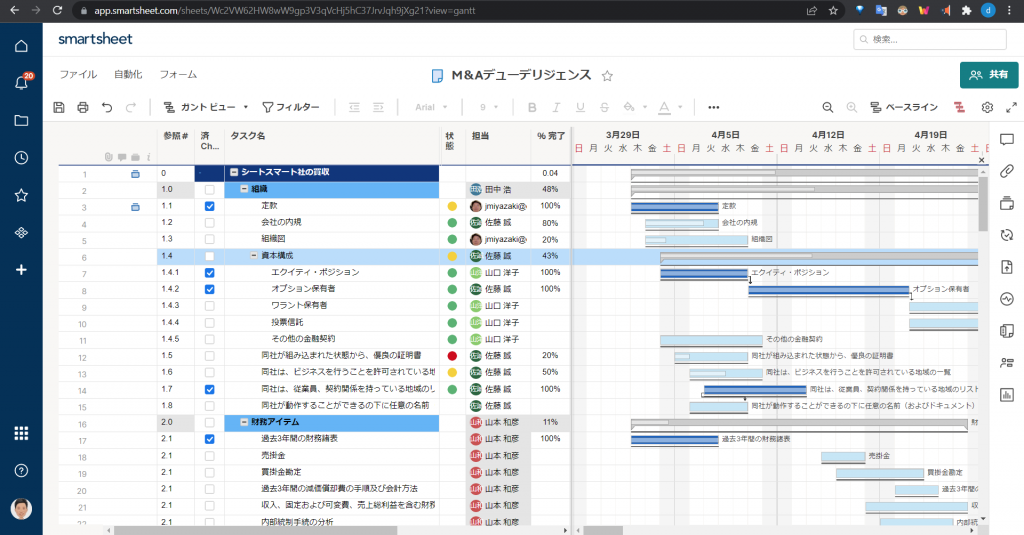 Dashboard example
By using the dashboard, contents such as sheets and forms can be displayed like a home page.
This isworkshopThis is the dashboard explained in.
Click the image below to see the actual dashboard that is set to be public.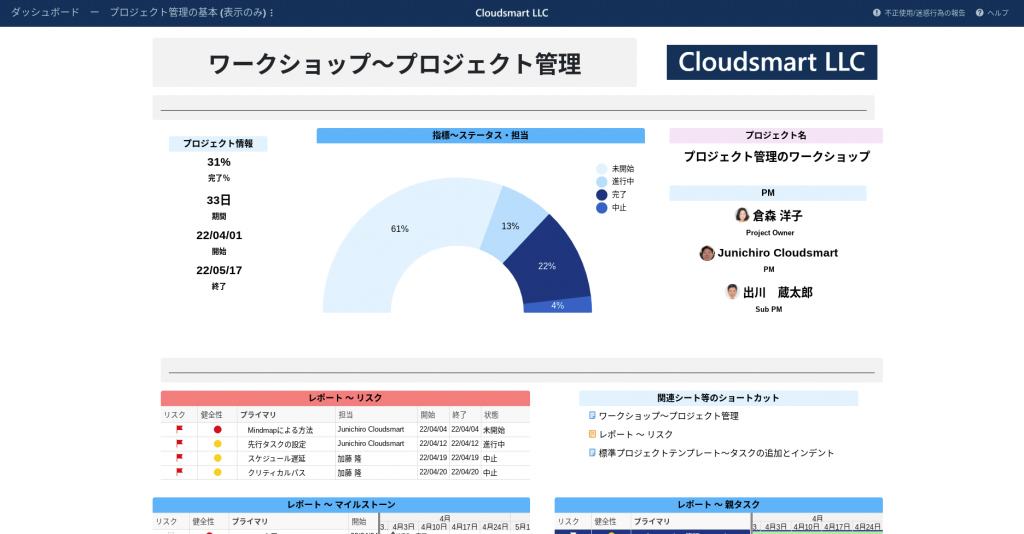 Click the button below to see a standard sample of Smartsheet. (It will take some time to load.)